Daily Dispatch: Del Potro is Back
It's been a long road back for Juan Martin del Potro after his 2009 wrist injury. Luck has been cruel to the rangy Argentinian. He suffered several injuries last year as he readjusted to life back on the ATP Tour, and many questioned whether he would ever return to the pinnacle of his ability.
Having seen him push Roger Federer to the absolute limit at the Olympics, and then regroup quickly to beat Novak Djokovic in the bronze medal match, we can acknowledge that del Potro is most certainly back. Tonight's match against Djokovic was another example of his newfound confidence, improved fitness, and ability to hang with the top players.
Sure, it was a straight sets loss. It didn't feel like it. Del Potro fell to a player who would have beaten anyone thrown in his path. That the match was even competitive was astounding.
Now that he's rediscovered brilliance, Del Potro would do well to keep a conservative schedule for the rest of the year and through next year. His results are strongly dependent on his being healthy, and overplaying will never be helpful to him. It's not impossible for him to get back into the top five, but achieving that goal shouldn't come at the expense of sacrificing long term health.
As for Djokovic, what more is there to say? He was beyond dazzling. He hit shots that no other player, current or from the past, could even hope to attempt. If Djokovic plays even 75% as well for the rest of the tournament, he'll be hoisting the US Open trophy having not lost a single set.
Per Chris Fowler, the second set of the match tonight was longer than Djokovic's entire first round match at the US Open.
One of the funniest moments (.gifs via @HinchadaDelpo) at the US Open (Del Potro jokingly pretending he's going to hit a photographer with his racquet:
And here's del Potro carefully removing a moth out of harm's way from the court: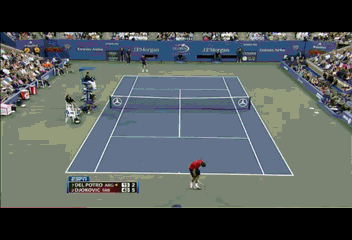 And rallying the crowd after hitting an amazing shot in the final game of the match:
A sad story about World No. 1 junior Taylor Townsend appeared on WSJ.com today, exposing the USTA's shocking decision to discourage one of their most promising young players and refuse to give her a wildcard into her home Slam.
From the article:
Her coaches declined to pay her travel expenses to attend the Open and told her this summer that they wouldn't finance any tournament appearances until she makes sufficient progress in one area: slimming down and getting into better shape.
"Our concern is her long-term health, number one, and her long-term development as a player," said Patrick McEnroe, the general manager of the USTA's player development program.
After Townsend lost in the first-round of qualifying at a professional event in Vancouver this summer, her coaches asked her to withdraw from the USTA Girls' National Championships in San Diego and return to the USTA's training academy in Boca Raton, where she now lives. She was put on double fitness duty and allowed to play just enough tennis to maintain her timing. "It wasn't my decision," she said. "But they didn't think playing was the best thing, so I went back."
Where to even begin?  Townsend is 16 years old and World No. 1 in the junior girls' tennis rankings. That alone should be enough to earn her a wildcard at the US Open.
That the USTA would discourage her from practicing and playing tennis in favor of sending her to the gym is beyond confusing. Townsend is not aspiring  to become a personal trainer. She is a tennis player. Let her play tennis. That's not a radical idea.
The worst part of the story is McEnroe's quote about this decision being health-related. Townsend spends hours on the tennis court every single day. In what way would her health be a concern? Is she at risk for a heart attack from being overweight (by USTA standards) at the ripe old age of 16? No.
My picks for the men's semis: Djokovic in easy straights over Ferrer, and Berdych in five over Murray.
My picks for the women's semis: Williams double bagel over Errani, and Azarenka in straights over Sharapova.
The first men's quarterfinal today between David Ferrer and Janko Tipsarevic was the match of the tournament so far. Their five set duel featured incredible shotmaking from both, and plenty of drama.
Jeers to Tipsarevic, who went down 15-40 in his service game, called a suspect injury timeout, and came back to hold serve. Based on the points he played directly after the medical treatment, there was nothing remotely wrong with him physically. This display of poor sportsmanship from Tipsarevic would offend even more if Ferrer hadn't prevailed in the end.
Lindsay Gibbs wrote a a great piece for The Classical on Kim Clijsters' career. Her observations about Clijsters' balance between motherhood and tennis are spot-on. Her piece on Andy Roddick is also worth a read.
Berdych's post-match presser last night after defeating Federer brought the laughs.
"Well, I just hope you're not comparing me with Lukas Rosol. Do you?" –Tomas Berdych, when a reporter asked him a question about Rosol's upset over Nadal at Wimbledon.
"We'll see after the match if he's going to be something different or not." –Berdych, on whether Murray is a different player after winning Olympic gold.
Tweet of the day, referring to del Potro pausing the match to rescue a moth, escorting it gently off the court:
"Like blowing an eyelash off a cheek, del Potro gently lifted the moth from off the court with his racket" — future delPo fan fiction

— Lindsay Sakraida (@LinTENNIS) September 7, 2012